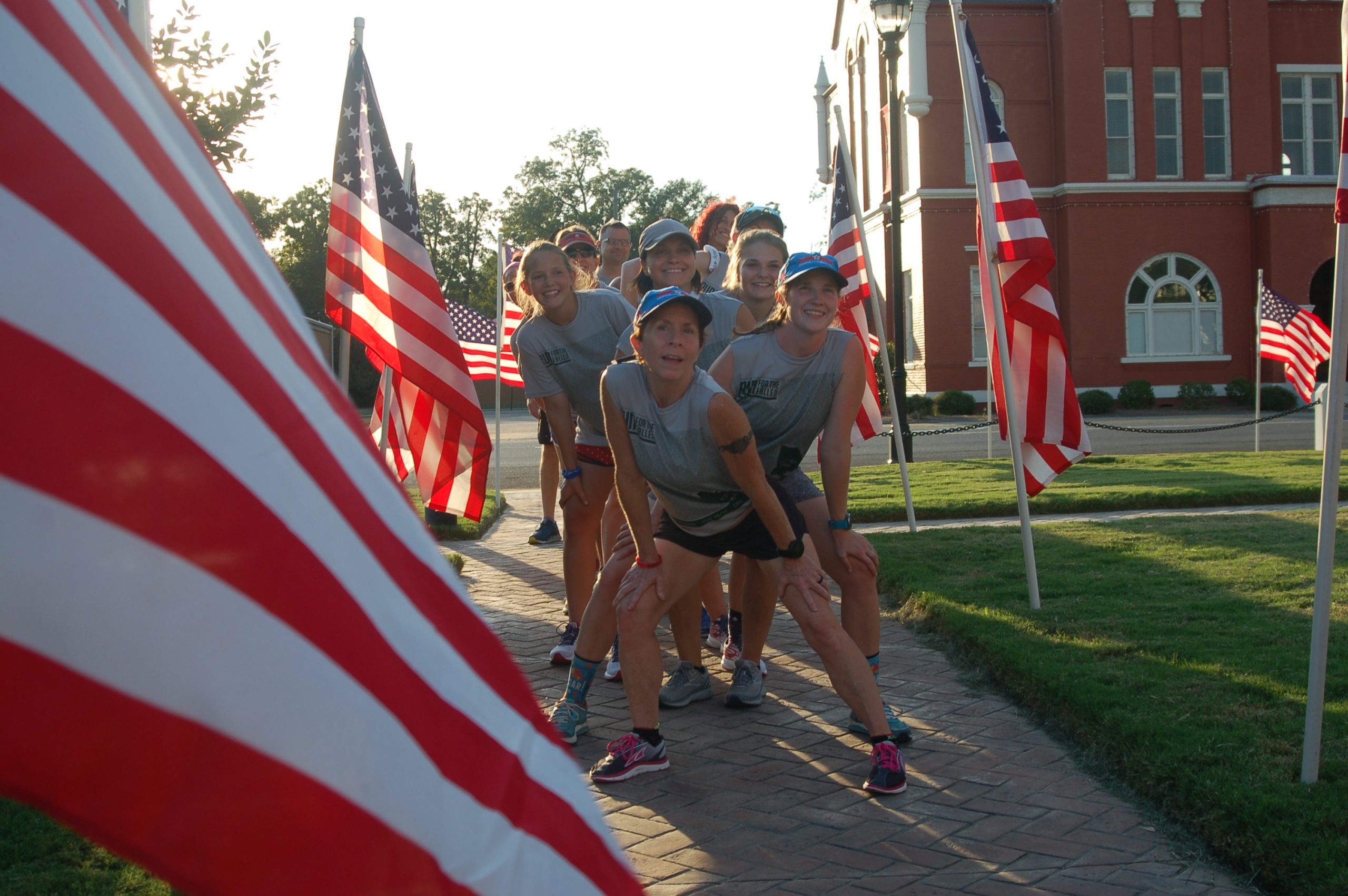 Join GEORGIA's
CORE RUN TEAM
Milledgeville to Ft Benning | 164 miles
SERIOUS RUNNERS ONLY PLEASE 
We are assembling a small group (20 maximum), of active or former military personnel or dedicated athletes to comprise a core team of runners committed to a 3-day 164 mile tribute run from Milledgeville to Ft Benning. The run has a specific timetable for each marker throughout each day. Runners need to be flexible, willing to run on any given day and when needed. RAIN OR SHINE.
Runners will run approx. 1 mile for every Georgia fallen military hero who died while serving during the current war on terror, stopping to salute and give tribute by name at every Hero Marker, briefly greeting family, friends and comrades who may be waiting nearby. Stopping no longer than 90 seconds each.
Each runner must be physically capable of a consistent 8-9 minute mile for 2 mile legs. Core teams will regularly rotate over the 3-day period. We are not looking for quantity of runners but a solid team dedicated to the remembrance of those who gave their lives and their families. A specific pace must be maintained in order to timely greet waiting families.
If you are interested in becoming a part of our core team or be a drop-in runner contact us at,
georgia@honorandremember.org
Runner Coordinator Amber King  -  amberjking@hotmail.com
Meet This Year's GEORGIA
CORE RUN TEAM
Team RWB Deputy Chapter Captain Warner, Robins GA and Team GARFTF
I am a proud Patriotic civilian supporter of our service members and families. My connection to service members comes from a family of Veterans: Grandfather-Navy WWI Veteran, Dad-Army Vietnam Veteran, and Brother-ARMY Ret. MSG 5th group SF.
 Having a passion for serving families of service members, I wanted to be able to give more, to do more for our Gold Star family members and Fallen Heroes, but was limited in my running capabilities. This year provided that opportunity as I had the honor and privilege of serving as the GA RFTF Run Coordinator.
As the Run Coordinator, it was incredibly inspiring to see how a group of individuals, strangers at that, came together seamlessly to honor our Fallen Heroes and Gold Star Family members. It was clear that NOTHING was going to prevent these runners from fulfilling our mission-to Honor and Remember heroes at every hero marker, every mile.  Over the course of 164 miles, this group of strangers truly became family sharing an emotional journey that included hugs, tears, pain, and smiles as we spoke the names of each Fallen Hero.
I'm a military spouse, my husband Colonel Lee Gearhart has served for 32 years in the Army. Bicycle mechanic, and endurance athlete. I love marathons, track cycling and honoring our fallen through running. America's Run For The Fallen in 2018 desperately needed runners in Union City, GA. So I was happy to help. It stayed with me. So I couldn't wait to run for GA Run For The Fallen all three days. It's a weekend that stays in my heart always. Hugging the Gold Star families on their loved one's mile is with you forever. Being with the group of people that are out there running in the heat and hills giving it their all is truly inspiring. We do this for the fallen and their loved ones. All in the name of our freedom and their sacrifice. We do not take It for granted. As a spouse of a soldier I know daily that our service members are in harm's way. The service members we have lost are with us in our hearts. As long as I can run I will be running for RUN FOR THE FALLEN. When the day comes that I can't run anymore I will be there volunteering. RFTF is in my heart forever!!!
I joined the US Army right out of high school in 2004. I have always enjoyed running. During the summer of 2019, my friends and I participated in an online virtual run. There, I found RFTF. I chose to run for my best friend and Battle Buddy, Anand Sharma. I was touched by this experience and wanted to learn more about the organization. I was excited to join Georgia's team and be apart of an experience that I will treasure forever! We endured extreme heat, long miles, tears, and physical pain. We also gathered in love and support for one another and most importantly for the recognition of our fallen comrades and their Gold Star Families. And for that reason, I will never forget this experience and will strive to be apart of all RFTF events as possible.
I am a civilian, but I have a deep bond with the military having been the daughter of a Korean War veteran, an Army spouse for about 20 years and now the proud mother of a United States Marine for the last 13.  I have recently become active in the Savannah/Ft. Stewart Chapter of Team RWB.  I have been a member for over 5 years, but I am fortunate now to be an Athletic Director for our local chapter and very active in so doing.  I am an avid runner, and when I learned of the Run for the Fallen through Team RWB, I felt drawn to the mission.  I run high mileage, and the idea of running this three-day relay intrigued me.  It was not until I realized exactly what we were doing each mile, at each Hero Marker, that I felt the passion and heartfelt importance of what this team was going to do.  Immediately upon meeting my teammates, there was a bond.  We became family.  We were all on this mission together to honor Georgia's fallen service members by name.  We say their names to ensure that we always remember their ultimate sacrifice.  We say their names so the Gold Star families know we are honoring their loved ones perpetually.  We make sure that those who gave all for our nation are always remembered by name.  We must never forget.  The entire experience of Run for the Fallen will be etched in my heart forever.  The emotions were strong, difficult at times.  Meeting the Gold Star families made it real.  We see their grief.  We feel their loss.  We share their pain.  I am so honored to have had the privilege of participating in Georgia's Run for the Fallen.  I look forward to running again next year and for as many as I am able.
Haidyn, our youngest core runner at 15, joined the team in 2020 with her mom Tara Thomson, former soldier in the US Army.
Haidyn will miss this years run as she competes for Team USA at the 2021 International Skeet Junior World Cup in Lima, Peru.
Veteran of the United States Marine Corp, joining us in 2021.
Sara joined the RFTF in 2020 and is a member of RWB in Savannah
Libby Joined the RFTF in 2020. Libby is a member of RWB in Savannah.
I am thankful to be joining the Run for the Fallen family as we bring honor and remembrance to Georgia's military fallen and their families.
I am thankful to be joining the Run for the Fallen family as we bring honor and remembrance to Georgia's military fallen and their families.
My brother is an army veteran, my uncle is an army veteran and my husband was Marine reserves. I'm a member of the RWB chapter in Fort Stewart / Savannah, we were informed there was a need for core runners for GA Run for the Fallen. As one who main purpose in my journey of running, is to run for those who can't. I immediately got information and signed up. I felt this run had so many emotions; honor( to run for those names), happiness(to be surrounded by so many people with heart in this run), and sadness( seeing those gold star families). With these emotions it made the miles harder then normal. It made the miles more meaningful , and respected. This run meant so much to me,  the connections with the core runners will last forever and excited to embark on the next event.
I have not served in any branch of the military, but I do understand where my freedom begins and ends.....with the lives of the brave men and women that paid the ultimate sacrifice or put their lives on the line to protect our freedom. No matter how hard I try, there are still days or even moments throughout the day that I take my freedom for granted.  I believe this is true for everyone, even our military personnel.  There are moments where we enjoy the pleasures of our lifestyles and don't always think of why we can enjoy those simple pleasures.  Whether it is the anniversary of 9/11, Veteran's Day, Pearl Harbor, or just an ordinary day, participating in the GA Run For The Fallen is just one way to remind myself that we should not take our freedom for granted.  Too many military lives have been sacrificed to preserve our freedom.  Let's honor the fallen!  (plus I enjoy running!)
I started running a few miles during America's RFTF for my Uncle, Lcpl Richard Furlong Sutter,  one I never knew as he was killed in the vicinity of Khe Sahn, Vietnam in 1968 before I was born. On the fifth mile I was running from the Georgia line, I encountered my first Gold Star family,  before then honestly it was but running miles and calling out names.  But this family was a mother with two daughters and a son.  The kids were all about my own kids age and it struck me as I hugged them that but for the grace of God this could have been my kids sitting on the side of a Georgia Road. Since then I have run many miles and have developed a special friendship with many of the families who have lost soldiers to PTSD. So I run for those who cannot....both those we lost and their families.  I run the first 22 miles of each day symbolically for those we have lost to PTSD and if I cannot do it straight I hit that number by the end of the day as a testament to these families that I stand with them and will never forget. A Simple thing, carrying a flag, but yet a simple thing that has so much meaning, is done with both the legs and the heart, and in so doing I find Peace.
I've been in the Air Force for 26 years and have enjoyed running for most of my career. I was asked if I would volunteer for a Georgia Run for the Fallen event.  I haven't run anything longer than a 10k in quite a few years, but I figured, why not, it's a great reason to run.  Needles to say, when I showed up for the first day, I was a little nervous.  However, after the first couple of miles of running with the team and hearing each others stories, I knew we could push through anything.  The pain and fatigue the runners felt was nothing in comparison to the sacrifices made by our brothers and sisters in arms and their families.  I've met some lifelong friends and many heroes along the way and look forward to running for those who can't again in 2020.
We will miss LeLe in 2020, as he is currently deployed to Kuwait, but he will continue to be part of Team Georgia. I am SFC Lé. I'm an active duty Soldier serving in the Army for over 16 years. I've had multiple combat deployment in Iraq and Afghanistan. I'm an all-around athlete. I doing CrossFit, biking and running with friends. I participate in the Georgia's Inaugural RFTF in 2019 through Team RWB. I chose to run with RFTF because I have experienced many loss of friends through the years. It never gets any easier when you see or hear the news of someone you have served with has passed away. RFTF has given a purpose and opportunity to remember and carry on their legacy and not let it be forgotten. To connect with Gold Star families and friends. I had no idea what to expect before doing the RFTF. Once I did the RFTF, my experiences, emotions and mindset have changed as what RFTF really meant and why each run, volunteer and family members do what they do. We start out as strangers and by the end, we bonded and became family!
A 24-year AF Veteran who recently retired in July 2019. I learned about RFTF from my fellow Team Red, White, and Blue (RWB) member Amber King who helped to organize the Georgia RFTF. I joined Georgia RFTF as a crew member because of Amber and found out that A1C Jason Nathan who was stationed with my husband and I in England was going to be honored. I was able to Run Jason's mile and since no family members were present, I was honored to receive the flags at his marker. My husband and I had known for quite some time that Jason was buried right up the road in Macon, but had not mustered up the courage to make the trip. The weekend following RFTF we bought some flowers, drove to Macon, and finally visited Jason. It was a very emotional moment for both of us, we left behind his flags and the paper bearing his name read at his mile marker, so his family would know that he is not forgotten. I am truly honored to have been a small part of this amazing tribute to our nations fallen heroes and am very grateful to have met so many dedicated runners and crew members who ensured that their sacrifices will not be forgotten! Thank you for letting me be part of this honorable tribute, I cannot wait till GARFTF 2020!
The manager at NWI Veterans Village,  a Permanent Supportive Housing program for veterans in Gary, Indiana.  One of my close friends and running partners is a Gold Star Sister. She told me how meaningful her first RFTF experience had been, so I felt honored and excited when she asked if I wanted to join her through Indiana during America's RFTF. There is no other community group like supporters of our American military and veterans. They are unwavering in their dedication, strength and kindness.  I was thrilled to join the Indiana core team again, where I met Chris Conley from the  Kentucky RFTF family. One Hero Marker led to another, and from there I met Christopher Sutter. The next thing I knew I was proudly carrying Georgia's state flag, to honor and remember with another amazing state team. I look forward to joining the RFTF team in future runs.
I have never served in the military, but I am a very Patriotic American. My dad served as a Captain in the U.S. Army from 1960-1967 and met my mom at Ft. Benning while he was stationed there (she was in the Red Cross), so this run brings everything full circle for me. I only started running a few short years ago in 2015 and didn't get serious about it until the end of 2020 when an awesome group of people asked me to join their run family. About a month later I joined the Savannah/Ft. Stewart chapter of Team RWB and met even more amazing people. Through this group, I was introduced and became friends with a Gold Star spouse who lost her husband to suicide in 2018. This had a profound affect on me and the way I view our fallen service men and women and how I viewed life in general. It was through my run family that I was introduced to Run for the Fallen. I have a newfound passion for both running and helping others. I participated in the 2nd Annual May Memorial Marathon, running a total of 60 miles over the course of 9.5 hours during the month in honor of our nations fallen heroes. I'm just lucky enough to have made the connections that I have recently, gifted enough to be able to run, and honored to be able to combine the two into something so meaningful. I now have a reason to run and the miles are no longer just miles. They are inspiration, even when I don't feel like running. I run for those who can't. If I can
bring any comfort to these families as we run, and let them know that their loved ones aren't forgotten by saying their names, then I am blessed to be a part of something so special.