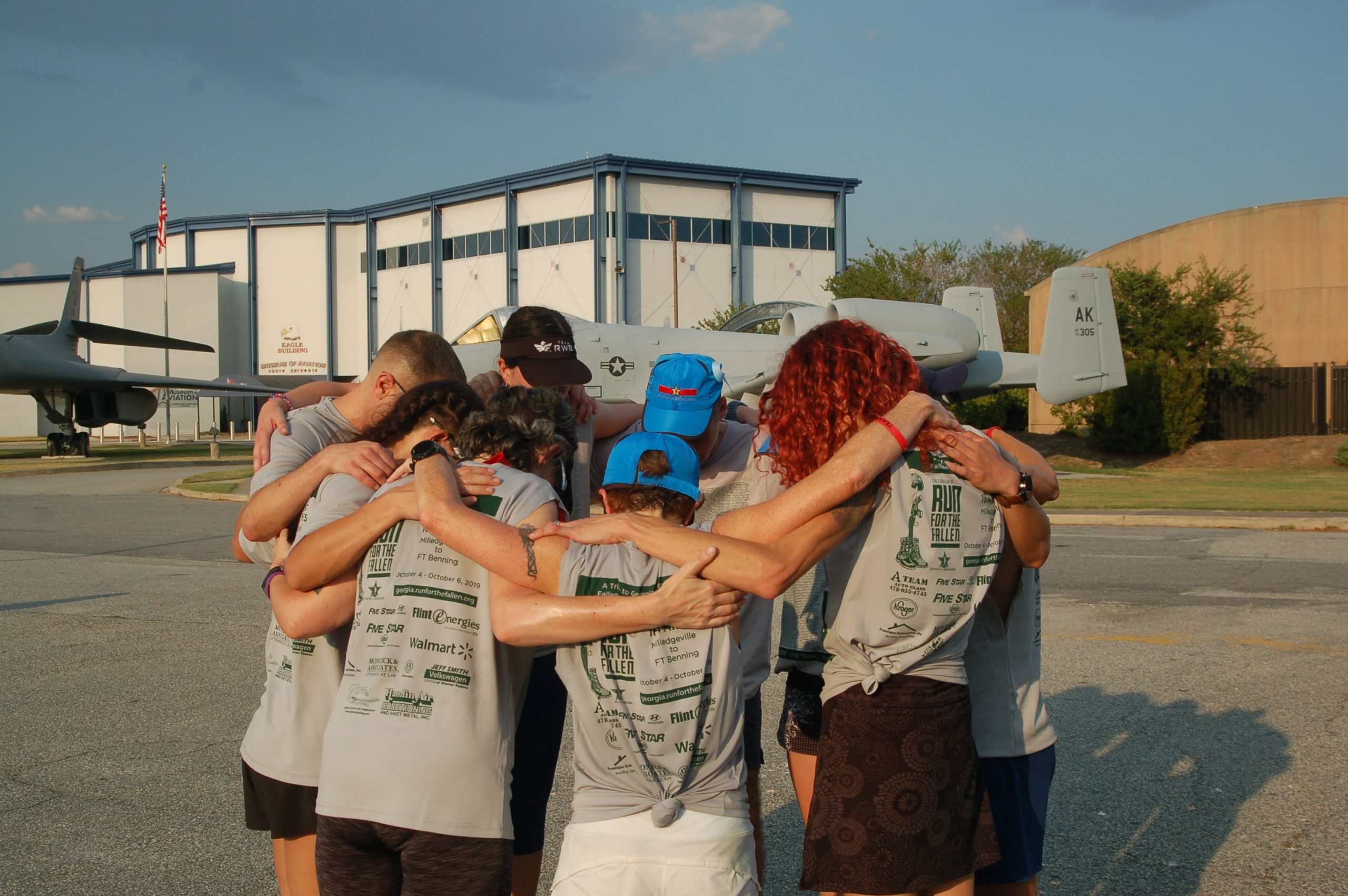 Georgia
run for the fallen
Milledgeville to Ft Benning - 164+ miles
Georgia Run for the Fallen will kick off on Friday morning, October 2, 2020, at 6:45 a.m. at the Georgia Veterans Memorial Cemetery in Milledgeville, GA with a "start" ceremony for the three-day, 164 mile journey through Baldwin County, Ivey, Wilkinson County, Twiggs County, Jeffersonville, Houston County, Warner Robins, Peach County, Ft Valley, Macon County, Montezuma, Schley County, Ellaville, Marion County, Buena Vista, Chattahoochee County, Cusseta, Muscogee County and Columbus to finish at the Global War on Terrorism Memorial at the Infantry Museum at Ft Benning, at 4 pm Sunday October 4th.
More details and route maps will be available here…
On Sunday afternoon, as the run reaches the museum there will again be opportunities for the public to show their support and walk alongside our team to the Global War on Terrorism Memorial at the Museum.
The listed timings and locations are subject to change as final details are confirmed during the next several months. Visit Route Directions to see where each Hero will be honored.
Please check back regularly for updates and also follow us on Facebook.
Timeline
Day 1 – Oct 2nd, Friday -
HM 1-57 - 57 miles -
Georgia Veterans Memorial Cemetery, Milledgeville to Warner Robins.
7:00 am start, Evening dinner.
Day 2 – Oct 3rd, Saturday -
HM 58-119 - 61 miles -
Warner Robins to Ellaville.
7:00 am start and evening dinner.
Day 3 –  Oct 4th, Sunday -
HM 120 - 164 - 44 miles -
Ellaville to the Global War on Terrorism Memorial at Ft Benning
7:00 am start and Closing Ceremony