One Team - One Mission - One Tribute...
Each mile of the Run is dedicated to a Georgia Hero and the Core Run Team will stop at every Hero Marker (every mile) and present an American Flag and Honor and Remember Flag to the waiting family members, friends and comrades.  The intent is to create a 160+ mile long memorial trail through Georgia.
Caution: each Hero Marker is placed approximately one mile apart. Some placements may not be along road conditions that are conducive to safely standing on the side of the highway. Please use wise judgement when waiting for the runners to arrive, safety for all is our number one concern. You may want to consider standing at another marker in a safer location.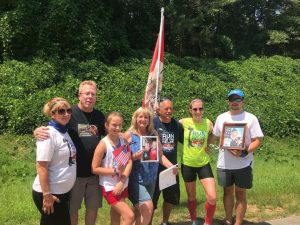 Hero Markers...
The end of each mile during the run is designated as a Hero Marker and each is assigned to one of our Georgia Heroes.   A couple of days prior to the actual run each of these Hero Marker locations will be marked by painting that particular number at the designated spot on the road shoulder and we will also place a laminated Marker card containing the HM number, name, and date and time as well.
Please click on route day maps for the location map for each Hero Marker to find expected arrival time of the Main Group and other pertinent details.
Question...can a family member, friend or comrade run with the Core Team for their mile?
Answer - yes - but most importantly - they must be capable of keeping pace with our team members - in practice that means that you should be capable of running that mile in 8 1/2 minutes!!!
Also - please remember that whoever is running that mile must make their own way to the preceding HM in time to join in with our team.   So - if your HM is for example 116 then you should be at 115 to join our Team to run your mile.   The planned arrival dates/times at each Hero Marker will be available here well in advance of the Run, as will maps for each location.
Also - there are many other opportunities to participate by being a part of the beginning and end of each day.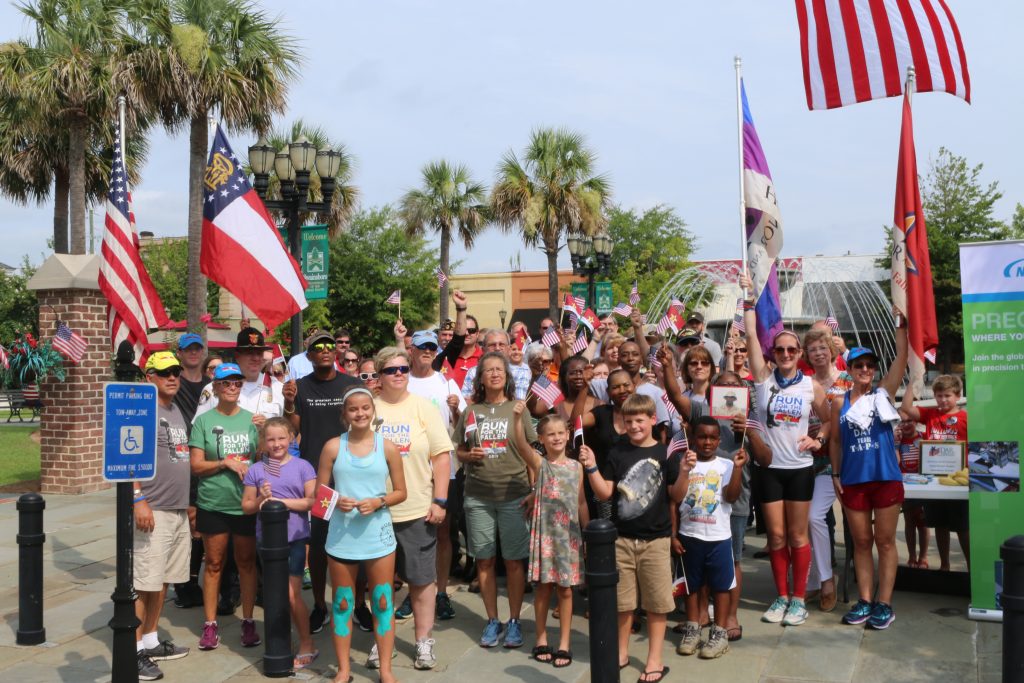 The 2019 Georgia Run for the Fallen...
The 2019 Run will take place October 4th-6th.   The format will be as follows...
Day 1 – Oct 4th, Friday - HM 1-57 - 57 miles - Georgia Veterans Memorial Cemetery, Milledgeville to Warner Robins. 7:00 am start, Evening dinner.
Day 2 – Oct 5th, Saturday - HM 58-119 - 61 miles - Warner Robins to Ellaville. 7:00 am start and evening dinner.
Day 3 –  Oct 6th, Sunday - HM 120 - 164 - 44 miles - Ellaville to the Global War on Terrorism Memorial at Ft Benning 7:00 am start and Closing Ceremony